50% OFF FOR THE NEXT 24 HOURS!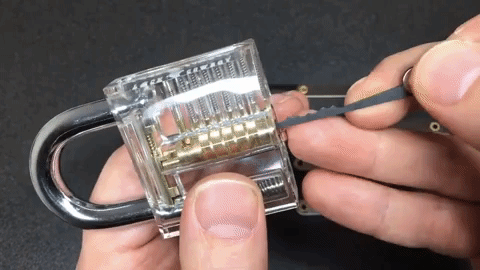 The Lock Picking Training Set is specially designed to teach locksmith beginners and the parents who want to develop their childrena??s creativity, and puzzle solving skills how to unlock??ANY lock.
Believe it or not, this is a legitimate hobby that many enthusiasts enjoy and find fun to do!??For the curious tinker type, lock-picking can be an engaging hobby.
The??transparent training padlock has??see-through body??to get a clear vision on??chambers??of??all moving parts, which allows you to see how it works.
This is a perfect starter kit for anyone interested in learning the art of picking locks!
FEATURES
a?? COMPLETE SET - Includes all the tools you need to become a professional locksmith.??Including??15 high-quality lock picks, a transparent practice padlock, keys and a leather case.
a????TRANSPARENT LOCK - Allows you to see how the lock mechanism works! You can clearly see how the pins move when a key is inserted, which makes it easier for beginners to learn.
a????ADVANCED SKILL TRAINING -??Lock picking is more than just a valuable skill to get yourself back in the house if things go wrong; it's also a good way to make a living as a certified locksmith. Use them for training or use them day-to-day; either way, our lock picking tools stand up to any job.
a????BUILT TO LAST??-?? Well-built and no loose parts or pins. Durable for long hours of??engaging practice.??
LEGAL NOTE
It is legal to pick any lock that you have received permission from the locka??s owner to pick. It is also legal to pick any lock that belongs to you. Picking locks that do not belong to you and/or that you do not have permission to pick is illegal.
Only pick locks you are legally permitted to pick

Educate yourself on the specifics of the laws in??

your??

state

Abide by those laws
a?? The following states have laws that explicitly consider possession of lock picks illegal:

Mississippi
Nevada
Ohio
Virginia