Why this is the Best Selling Harness Worldwide? 
Easy On/Off in 2 Seconds 
The most loved, sustainable (100% Nylon) & useful Harness for your Best Friend!  (And also the fastest & most convenient Harness on the Market)
8 Reasons Why Dog Owners Love It 
No More Pulling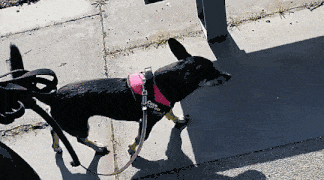 With our extensive experience we have developed a dog harness that helps you to train your dog walking beside you. Our special ring technology prevents dogs from pulling. Effortless control and comfort at the same time, for both you and your dog.
Personalize your Harness
Every dog is unique, so why not his harness too? You choose what you want to print on your unique harness, whether it's your dog's nickname, other funny names or your phone number. Another advantage is, if you ever lose your dog or he runs away, then people who find him will know how to reach you.
Why a Harness is the Best Choice?
If your dog is pulling and it is attached to a harness, the weight and pressure are distributed across the chest evenly, and it doesn't cause any injury. It's super comfy for the dogs, allows them to move freely, and gives owners peace of mind.  At the same time, it squeezes the dog's shoulders a little bit and discourages him from pulling. 
Dogsglory 

Warehouse
After we have personalized your Dogsglory harness, we send it within 24 hours directly from our warehouse to your home. We ship all Dogsglory products worldwide without shipping costs.
Reviews
We are glad that 99% of our customers rate this harness with 5 stars.
 Here are some real customer feedbacks: 
"Bought this harness (size large and in black) for my 3 month old Siberian Husky (who pulls allot) and it's great. At first I though it might be to big but you can adjust the size of the harness considerably to make it fit perfectly. I expect a size large will fit him when he is fully grown. It looks good, it's made of quality materials, lots of padding, and the reflective trim is a great addition, especially for night time walks. For the price, it's a great harness." ⭐️⭐️⭐️⭐️⭐️James S.
"We bought it in L for our samoyed boy, it fits perfectly. Easy to put it on, he likes it, we're also happy with it. The harness supports the easy leash walkies. I recommend it!  ⭐️⭐️⭐️⭐️⭐️Ben F.
"I would definitely recommend this harness! it's good quality and comfortable for a dog. I ordered size L for my border collie and works perfectly!"
⭐️⭐️⭐️⭐️⭐️Tiffany G.