🍳Make Eggs & Pancakes Easier & Faster!🥞


Having a hard time flipping and making perfectly shaped pancakes and eggs? We got the perfect tool for you! With this Non-stick Egg Pancake Maker, you can perfectly cook and create random shapes on your food. Cuts your time and labor, even save you cooking oil and space. Makes your cooking easier and faster!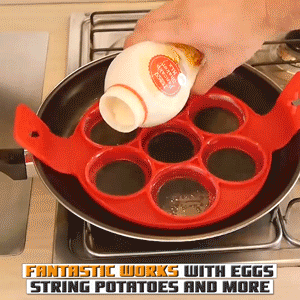 Made with food-grade material, this Non-stick Egg Pancake Maker is easy to use, reusable, and durable. With this tool, you can save a lot of time to prepare for other meals as well as produce fast results. And since it's non-stick, no need to worry anymore of having a hard time cleaning the mold. A lot in store for you!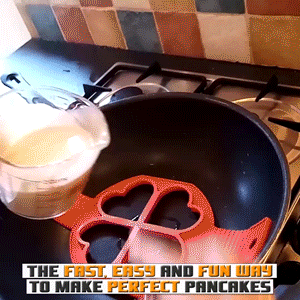 HIGHLIGHTS:
Easy to use – Place the mold into the pan and just pour the batter or egg on it. Easy peasy cooking and nothing to worry!
Easy to clean – Dishwasher safe, you can easily clean this tool since it has wider openings that are surely reachable.
Durable and reusable – Won't easily get torn or burnt, you can use this over and over!
Non-stick and non-slip – Even if this tool is non-stick, it's also non-flip too! No need to worry about getting your food dropped when you turn it over.
Made with food-grade material – Non-toxic and safe to use, won't leave any chemicals or smell on your food.
Saves time and labor – Will give you a lot of time to prepare for other stuff and won't get you tired of cooking with this easy to use tool.
Space convenient – You can hang it after use or put in drawer since it's thin.
SPECIFICATIONS:
Material: Food-grade Silicon
Color: Red
Design: Round, Flower, Heart, Star
Sizes: 35 cm x 19 cm
PRODUCT INCLUDED:
1 x Non-stick Egg Pancake Maker