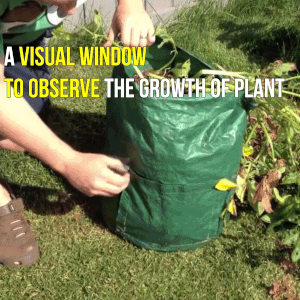 Grow plants all year round even if you have little space in your home with the Plant Grow Bag. This fabric plant container lets you grow healthy, fresh, and organic produce in little or contained spaces. It's also a better alternative to plastic pots as it provides ideal drainage and aeration to encourage root pruning, which is vital to growing healthy plants.
Benefits:
Ideal for small spaces. It's great to use when you only have a small space to grow plants. You can use it in tiny gardens, patios, and balconies. You can also use it on roofs, stairs, and corner walls.
Suitable for different plants. It's perfect for growing vegetables like potatoes, tomatoes, cucumbers, peppers, beans, as well as herbs and flowers.
Top quality material. Made of non-toxic and anti-mildew fabric. Strong and resilient, it can withstand being dropped or handled roughly.

 

It also has reinforced seams and handles that allow for easy transportation of plants to different locations.
Better airflow. 
Provides a multitude of uses.  This bag is only great for growing different crop varieties, but also for moving heavy items such as rubble and old compost.
Foldable and reusable. Reusable for season after season. Can be easily washed and folded for easy cleanup and storage.
NOTE: Please allow 15-25 Business Days for shipping
Click YES, I WANT IT NOW to grab yours today!
Product Specifications:
Package includes: (1) Plant Grow Bag
Material: Non-woven Fabric
Size: 300 x 350 mm/ 11.81 x 13.78 inches
Weight: 5.29 oz./ 150 g
Capacity: 7 gallons
Color: Dark Khaki, Black, Green