RELIEVE YOUR STRESS AND BUILD A CLOCK FROM SCRATCH WITH THIS AMAZING 3D CLOCK PUZZLE!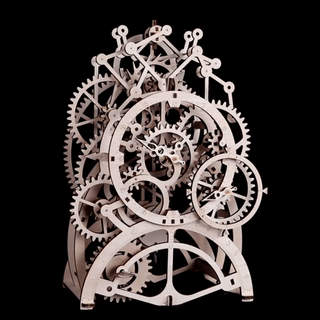 Reducing stress in your everyday life is vital for maintaining your overall health, as it can improve your mood, boost immune function, promote longevity and allow you to be more productive.

If you don't get a handle on your stress and it becomes long-term, it can seriously interfere with your job, family life, and health.

Solving 3d puzzles relieves stress successfully and flexes mental muscles, provides many benefits for both children and adults like focus and concentration.


Learn the art of patience and organization as you separate pieces from the 3d puzzle and figure out where each piece goes. Helps you to develop motor skills, pattern recognition, hand-eye coordination and build a better sense of structures.


HOW IT WORKS
✓ Educational DIY 3D Puzzle
✓Perfect Decoration
✓ relieve stress and improve concentration
✓ Great for adults and children

This mechanical wooden puzzle uses precision laser cutting, high-quality plywood.

The pre-cut wooden board will be easy to pop the individual pieces out of the sheets, no glue required. The interlocking mechanisms are pretty ingenious.

Travel to the industrial age. This clock craft kit imparts a vintage quotient to the ambiance. Also, it looks classic and eminent. Kids will enjoy its work process.
Design. The mechanical engineering kit is designed beautifully. The 3d wooden puzzle has decorative designs that look captivating in the finished product.
Your guests will find it interesting and appealing with the entire setting and visible gear mechanism.


FEATURES:
Mechanical gear

169 pieces, laser cut from 4 wooden sheets

Smooth touch

Shipping takes from 2-4 weeks internationally.