Capture HD Videos and Images without the need of an expensive, heavy and bulky device.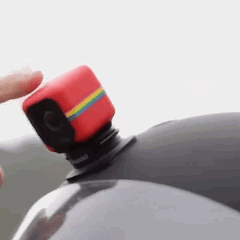 Capture your moment in?Full HD 1080P quality with this?HD 1080P Night Vision Dice-sized Camera!?

Triple?the quality, minus the size!?
Within this dice-sized, finger-tip camera, it's going to offer you with a Full HD 1080P recording quality! It's tiny. It's light. IT'S THE SMART CAMERA OF THE NEXT GENERATION!?
Simply Insert micro card, turn it on and you're already recording! It's so simple, easy for everyone to use and the best for travels.?
From 1080P Full HD video and photo-taking, to high quality sound-recording, this is the only camera you'll ever need! This camera will be your best pal on the go with a motion-sensing and premium night vision function design.?
Keep an eye on your pets or children when you're not with them! This camera will be your perfect choice to keep recording in the dark?discreetly! Hide it and use as a pet camera, nanny cam, and dash cam. Stay recorded with the least cost and the most convenience!?
Clip it on as a body camera, sports action cam, or mount it on a drone. Enjoy watching your pet or your child's?growth?without interrupting their activities. Record and playback your off-road adventures when you use it as an action sports camera or dash cam.
Package Includes:

1*H11 HD 1080P Night Vision Dice-sized Camera

2*?Holder

1* USB Cable/AV Cable?

1 x User Manual
?