Want to add extra fun to your parties? Try this amazing Electric Shock Game with your friends!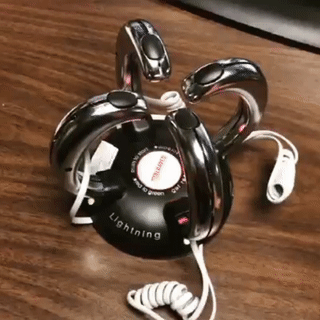 If you are looking for an exciting challenge and want to add spark to your life, this lightning reaction revenge reloaded electric shock game will be a perfect one. It is suitable for 2 or 4 players to participate.

Just press the center button to start, when the sound stops and the light goes from red to green, the last player to press the trigger button gets an electric shock!

What's more, for extreme fun, you can switch over to the Extreme Mode - only the fastest will not get a shock.

This game also works exceptionally well as a drinking game for the party: anyone that gets zapped takes a drink. By the way, if you press too soon before the light goes green, you may. Are you ready to scream or shout? Give it a try and you are gonna love this game.





HOW IT WORKS:
Each player grabs a handle from the base. Press the button in the center, watch the red light blink and listen to the suspenseful music play. Wait for it…..when the red light turns green GO. Press the trigger button as quickly as possible. Be the last to react and get the electric shock.


OBJECTIVE:
To have the quickest draw and best timing of your opponents. Lightning Reaction Reloaded guarantees hours of fun and laughs as you and your friends get zapped.

Lightning Reaction Reloaded has a variable shock control – Low, Medium and High. How much electric shock can you take, very little or electrifying?





PARTY FUN:
Add some zap to your next party or play shocking pranks on your friends with Lightning Reaction Reloaded. Bust out this shocking game for an electrifying good time.

How to play 1: Press the start button and the 10-second timer starts. When the time is up, no matter who presses the button on the handle within 1 second, it will be shocked. If you press too fast or too slow, you will also receive an electric shock.

How to play 2: Press the start button and the 4 LED lights flash randomly. When stopped, it could be one, two or all lights. The person with the light must press the button on the handle within 1 second, otherwise, he or she will be shocked. If the red light does not illuminate, pressing the button will result in an electric shock.
FEATURES:
Suitable for 2-4 people to play

Two game modes

You can specify the target of electric shock

Material: Plastic ABS + electronic components

Product Size: 12 X 12 X 15 cm / 4.72 X 5.91 X 5.91 in

Battery: 3pcs AAA batteries(battery is not included)

Shipping takes 10 to 25 days.