If you're wondering how to keep a room cool at night, whilst avoiding spending lots of money on a professionally installed air conditioning system, you should definitely read on!
This portable air conditioner wipes out the need for a permenant air conditioning system, providing cool, refreshing air everywhere you go.
This incredible Arctic Room Cooler Portable Air Conditioner Small Mini AC Unit Zen, is a great solution.
Not only is this small air conditioner the perfect indoor portable air conditioner cooler fan, providing cool, refreshing air to all rooms, including bedrooms, kitchens and living rooms, but the portability of the cooler means that it too will serve you whereever you go!

It is impossible to find another small, portable air conditioner that will do what a portable air conditioner can do.
This air conditioner cooler fan can be operated without the need for extracting hot air through the window and will help you survive the hottest days. You'll have everyone wanting to come over to your house as they're sweating like crazy out there in the crazy heatwave!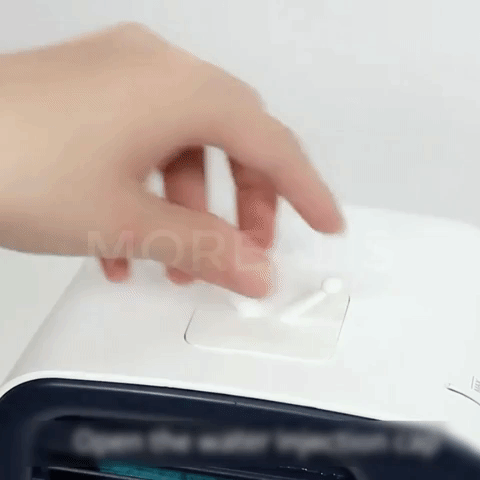 A GREAT WAY TO KEEP YOUR ROOM COOL AT NIGHT
Buying a traditional cooling system is costly and expensive. 
You need something that's portable and travel-friendly but also serves its air conditioning purpose. Well, that's exactly what inspired this personal ac travel unit to be created.
With no vent or window installation required, I can't imagine what's easier to use than this small portable air conditioner. 

Simply pour water into the portable ac unit and enjoy the arctic chills coming from one of the best smallest air conditioners currently in the market!
FEATURES:
FROSTY, COOLING AC UNIT - This portable ac is simply the best portable air conditioner with the feel of arctic air for your hottest summer days. Consider it your personal air conditioner that is tiny and a travel ac unit that will make people envy in despair as they are sweating from the hot summer days.
ENERGY EFFICIENT – Unlike traditional ac units, our small cooler fan consumes less 10W of electricity and won't add to your electricity bill. It is a cheap portable air conditioner alternative that does the job in your room, bedroom, etc..
HOW IT WORKS - Our portable air conditioner doesn't have to be vented, meaning it doesn't require a window for installation. Simply pour water (the cooler the better) into the small portable ac unit and enjoy the breeze of the nice, cool, cold air coming from the tiny ductless air conditioner.
PRODUCT SPECIFICATION:
Material: ABS+PC / Size: 170 x 160 x 145mm / Weight: 860g
Power supply mode: USB or AC current supply (without conversion plug) / Endurance time: 10h
Power interface: USB interface – 5V, 2.1A / Power: 8W/ Air volume: 50 CFM / Tank Capacity: 375ml
Package Contents:

1 x Portable Cooler Compact Air Conditioner
1 x USB Cable
1 x Manual
Brand Name: BASEUS
Power (W): 4W
Voltage (V): 5V
Timing Function: No Timing
Remote Control Function: No
Power Source: USB
Water-shortage Power-off Protection: No
Type: Cooling Only
Max. Timing Limit: No Timing
Reverse Rotating Function: No
Type: Air Cooling Fan
Suspender Length: No Suspender
Rotation Way: Without Rotation
Air supply mode: Other
Application: <10㎡
Certification: CE
Certification: RoHS
Technology: Other
Rotary Vane Quantity: Without Vane
Wind Type: Natural Wind
Usage: home
Max. Power: <20W
Material: Plastic
Size: <1050MM
Controlling Mode: Mechanical Timer Control
Installation: Table
Model Number: Desktop air conditioner fan
Fan Speed: First Gear
Type: Air Cooling Fan
Material: ABS+PP
Input interface: Type C
Water tank capacity: 320ml
Feature 1: Mini Air Conditioner Air Cooler
Feature 2: Air Cooling Cooler Fast Cold Wind Fan
Feature 3: Convenient Air Cooler Fan
Feature 4: Air Cooling Fan for Home Office