🧰Damage Free Repair For All Vehicle!🚗


Complete a damage-free repair or maintenance project on almost any vehicle with the help of this Car Trim Removal Tools Kit! This handy set has everything you need for those specialized automotive repairs, offering a wide range of tip profiles that take the hard work out of repetitive scraping or cleaning tasks without marring vulnerable surfaces or coatings.
Each of this professional-grade tool is guaranteed to be more durable than other brands because of its high resistance to rust or corrosion, and can effectively help you remove trim, molding, door panels & dashboards with ease.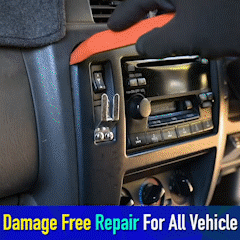 Highlights:
HIGHLY EFFICIENT: Offered in either 4, 8 or 12-piece set, these tools are excellent for trimming your car's door panel, audio system, interior accessories, window & even for removing bicycle tires
DAMAGE-FREE: Unlike metal trim removers, it is gentle on surfaces to prevent you from damaging your internal car parts or even the paint finishes while trimming
UNIVERSAL COMPATIBILITY: The tools feature a unique design that helps improve trimming efficiency & makes them suitable for use with different vehicles
COMPACT & LIGHTWEIGHT: It is easily handheld to effectively save on effort & time while removing car door panels
CONVENIENT: This set is also perfect for DIYers, mechanics and even audio technicians who would like to upgrade their car audio system or remove easily breakable trim parts
PRACTICAL: Allows you to do the modification by yourself to save both money & time
VERSATILE: Works great for both interior & exterior trim
WIDE APPLICATION: Suitable to use for removing upholstery parts, door panels, body moldings, dashboards, & even tailgate handle trim
HEAVY-DUTY MATERIAL: Made of a durable material that has an excellent abrasion resistance & can withstand high pressure & high temperatures

Specification:
Material: Premium Polypropylene plastic / POM
Color: Orange / Blue / Red
Package Options:
4-piece set: Auto trim removal tools x 4
8-piece set: Auto trim removal tools x 7 + Release tool x 1
12-pice set: Auto trim removal tools x 11 + Release tool x 1