???a?? Want more

??comfort to watch your favorite series during confinement?
a?? Go no further, we have the ultimate solution for you!
????

Enjoy ultimate comfort thanks to our BIG BAG??

a??FUL PLEASURE FOR EVERYONE:??Ideally sized for children and adults, this comfortable bean bag is the??ideal addition??to any basement, family room, dormitory or bedroom, whether as a chair game or as an office area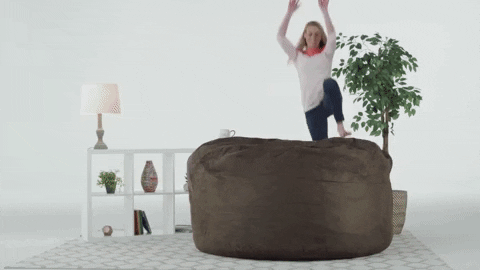 a?? OVERSIZED

??
BAG:
????120 x 120 x 60 cm - Collapses into a seat that loves you and adapts to your body;??with room for the whole family, to share with a friend or to really relax
a?? SHREDDED

??
MEMORY FOAM: BIG BAG
??chairs are filled with a mix of shredded memory foam, flexible and very durable, which helps to keep in shape while increasing the level of comfort for the most refreshing moments intense.
a??

??
COMFORTABLE COVER:
??The double sewn and removable micro-suede fiber is soft to the touch, machine washable and resistant to stains and discoloration for easy maintenance
a??MADE IN FRANCE:
????Made with high quality American shredded foam, light and fluffy, top quality zippers and hand-selected fabrics double stitched for maximum strength and durability.