250x150cm 210T nylon shioze no elastic anti gravity Yoga capacity 200kg air hammock hammock offers a variety of colors of goods
Product information
Capacity: 200 kg
Size: 250 x150cm ? error of 5 cm
Accessories: master bed + 6 handles
Material: 210 t taffeta, commonly known as the parachute cloth, lifeless
YOU¡¯LL ALSO STRENGTHEN YOUR UPPER BODY & CORE, RELIEVE STRESS, PREVENT INJURIES, PROMOTE YOUR OVERALL PHYSICAL HEALTH, AND EXPLORE NEW POSES THAT ARE OTHERWISE INACCESSIBLE. IT ALSO?HELPS OPEN THE FRONT SIDE OF YOUR BODY?INCLUDING THE SHOULDERS, ABDOMEN AND CHEST!?
Not just for yoga experts!?Designed to be used by anyone, from householders to fitness enthusiasts.?Extremely beginner friendly.You can go as easy or as hard as you want.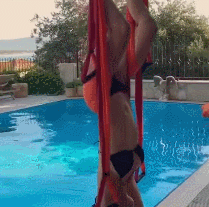 SE:?Indoors & outdoors
SETUP:?Hang indoors or outdoors, install it in a doorway or attach to a ceiling beam.
AGES:?7 to 75 recommended
WEIGHT LIMIT:?200kg?
250x150cm?
Suspension Ceiling Hooks not included
Installation steps:
1, first installed in the ceiling hooks, fixed plate or steel tube can hold, distance between two hook 50 cm to 80 cm is preferred. Installation hook need to cut holes in the ceiling, ceiling ceiling not suitable for installation. (installation must be on the fixed objects can bearing)
2, if the ceiling is higher, need to add to extend belt, extended length of 1.8 meters, the length of the anti-gravity yoga is 1.4 meters to 1.5 meters, so the higher the ceiling is also can be used.
3, the mountaineering hook hook at the ends of the anti-gravity yoga to prolong it is good for the end of the belt.
Note:
1. Hang a hammock yoga must be strong, the support of ride height head upside-down from the ground not more than 15 cm, to prevent accidentally falling injuries.
2. Before use, please check whether yoga hammock stage link is loose, whether extended with excessive wear.
3. Avoid carrying buttons and damage of yoga hammock or sharp objects.
4. This product is fabric not fire, please far away from the fire.
5. Pay attention to the yoga hammock around the ground is flat and level, avoid with gravel, the branches of the existence of sharp hard objects such as location.